KIDS' EYEGLASSES
Good, solid children's prescription glasses for school and play!
Good eyeglasses are extra important when it comes to kids. Long days at school or kindergarten require lots of concentration, which mustn't be hampered by poor vision or ill-fitting glasses. Children's glasses must also be sturdy enough for active play, and comfortable at all times during the day.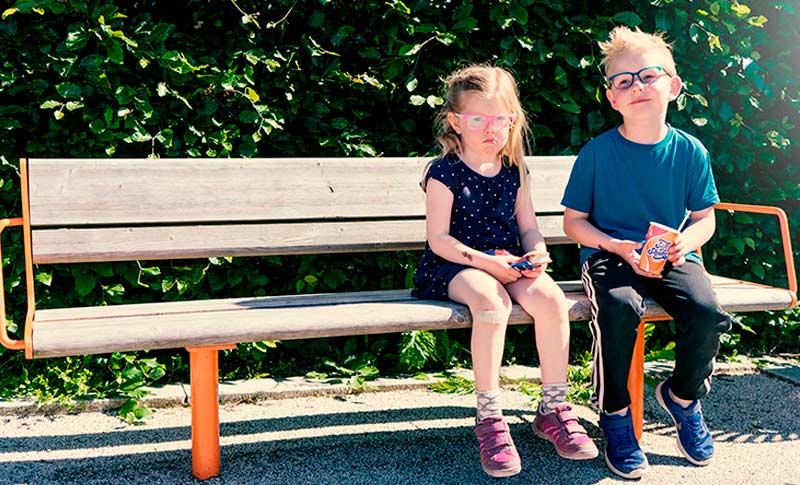 The frame of a pair of children's glasses should always be high enough that the child can't peek above it. One of the differences between children and adults is that children often see through the top part of the lens, when they look up at adults or at objects in their environment. Most children's eyewear is designed with maximum comfort in mind, but make sure that your child's eyeglasses fit neither too tightly nor too loosely. If your child already owns a pair of glasses that fit comfortably, you can measure them and compare with the measures that we indicate for all the frames in our web shop.
Choose eyeglasses that your child will love using. Quality materials and a good fit are important factors to consider when choosing children's eyeglasses, but one thing is more important still: that the child is happy with the glasses! If children don't feel good about themselves when they're wearing glasses, it can impact their well-being and self-esteem. Worst case, the child might simply refuse to use the glasses. Involve your child in the choice of his or her eyewear. Speak positively about other people using eyeglasses, and avoid asking your child to remove the glasses when you take photos. Last, but not least: Do your best to love your child's glasses yourself! If you don't like them, chances are your child won't either.
Buy affordable children's prescription glasses from Extra Optical. Children's eyewear should never hinder active play. For children below five years of age, plastic frames are most suitable. The material is hypoallergenic, sturdy and stable, and ensures that the weight of the glasses is evenly distributed. For older children it doesn't really matter whether you choose plastic or metal frames, as long as the glasses are robust and practical and the child likes them. At ExtraOptical, you'll find a great selection of kids' prescription glasses at unbeatable prices. When you shop from our web store, you don't need to worry too much about your child's glasses: Should anything happen to them, it won't cost much to replace them. Go fetch your child, sit down together, and have a good time choosing a cool pair of glasses from our web shop today!