PROGRESSIVE EYEGLASSES
Progressive eyeglasses for perfect vision at every range. Presbyopia sets in around the age of 40-45. The lens of the eye becomes gradually more rigid, and the small muscles around the eye can no longer curve the lens in order to focus like before. Your vision is blurred at close range, and reading becomes increasingly difficult.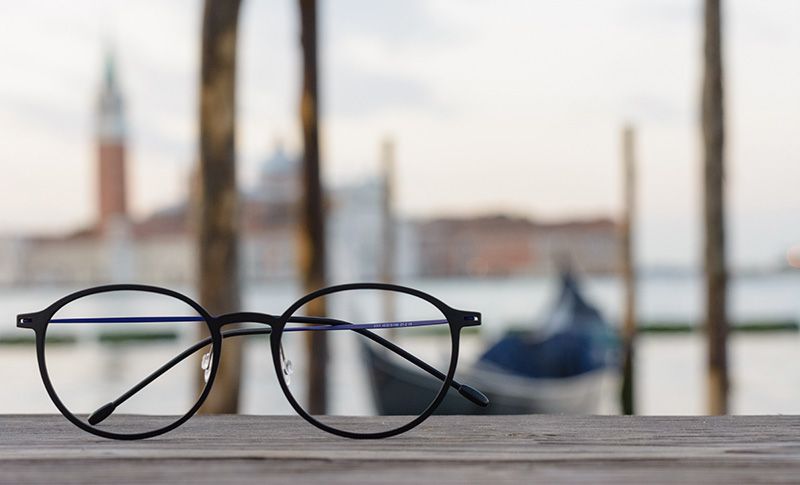 Simple presbyopia can be corrected with ordinary reading glasses, but if you are also nearsighted or have astigmatism, for example, progressive lenses enable multiple types of correction with a single lens. Progressive lenses include different powers to correct your vision both at close range and at a dis-tance. Unlike bifocal lenses, which are divided into two distinct segments for near vision and distance vision, progressive lenses have a gradual, invisible transition between the upper and lower parts of the lens. If you find using two pairs of glasses inconvenient and think bifocal glasses make you look old, pro-gressive eyeglasses are the solution.
How to choose progressive eyeglasses!
Since progressive lenses have multiple powers, it's important that the frame is high enough to leave sufficient lens surface for each power. The rule of thumb is that the frame should be at least 30 mm high. In our online store, you can use a dedicated filter to display only frames that are suitable for progressive lenses. When you order progressive eyeglasses from Extra Optical, you can choose between standard pro-gressive lenses and so-called free-form lenses. Free-form lenses can be tailored to your prescription values and your chosen frame, and will give you a wider field of view and improved visual comfort. Progressive eyeglasses may require a period of adaptation, ranging from a few minutes to a few weeks. You might feel a little dizzy, or experience slight headaches or nausea. This is completely normal, and it passes quickly for most people.
Shop safely online with our 30-day return policy.
Extra Optical is a leading European online optician. Our eyeglasses are the same quality as those you buy from high street opticians, but as a lean, internet-only business we have very low operating costs and can offer equivalent eyewear at much lower prices. Our ambition is to always provide the cheapest prescription glasses available, without compromising on quality. We also want our customers to be 100% satisfied with their purchase, every time. If for any reason your progressive eyeglasses don't meet your expectations, simply send them back within 30 days and receive a replacement or a refund. Choose a stylish frame in the online store, then add your prescription values so we can customize your lenses. If you're unsure how to interpret the prescription, you can simply email it to us and let us handle the rest. Within 1-2 weeks, you'll receive your new glasses by mail. Order a pair of stylish, affordable progressive eyeglasses today!