Ray-Ban® eyeglasses
Ray-Ban is the world's best-known and best-selling eyewear brand. The unique, unmistakable look is beloved by style-conscious eyeglass wearers worldwide, who appreciate Ray-Ban's superior quality and timeless designs.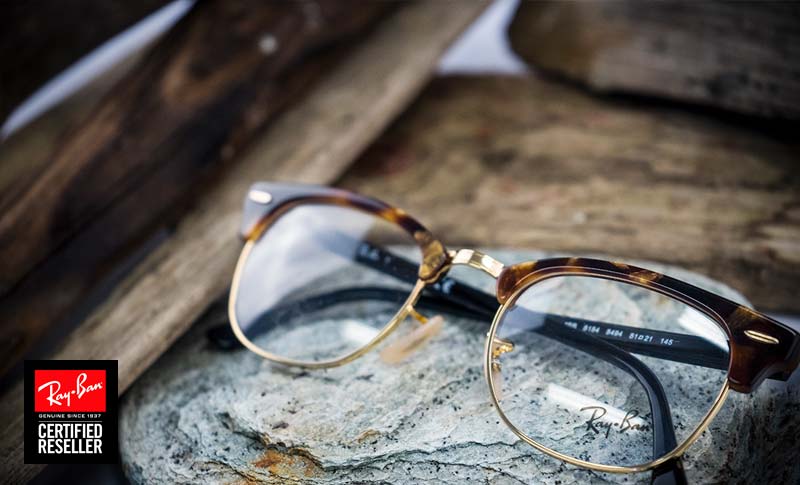 While Ray-Ban was primarily a sunglass brand for decades, today it is a premium brand for standard prescription glasses as well. Ray-Ban glasses are elegant and comfortable, exclusive and timeless, and convey self-confidence and a taste for quality. Ray-Ban prescription glasses are often inspired by the brand's iconic sunglass designs, such as the Aviator and Wayfarer. The color palette also reflects the timeless elegance which is Ray-Ban's trademark, with an emphasis on black, grey and tortoise shell patterns. Of course, you will also find Ray-Ban frames in a wide variety of other delightful shapes and styles. Whether you prefer rectangular, round or oval frames, retro styles or cutting-edge designs, there is a perfect Ray-Ban frame for you.
Ray-Ban prescription glasses for everyone! The first Ray-Ban glasses were designed for American pilots in the late 1920s, and for many years Ray-Ban was a distinctly masculine brand. The ladies' range wasn't introduced until the late 1950s, but it instantly became a resounding success - not the least thanks to style icon Audrey Hepburn, who immortalized the Ray-Ban look in the movie classic Breakfast at Tiffany's. Today, the Ray-Ban range of prescription glasses is just as large and attractive for women as it is for men. Ray-Ban knows no age limits either: Children have a sense of style, too! Ray-Ban's children's glasses come in many different materials, colors and shapes, and are always sturdy and comfortable. No matter what type of vision correction you need, there's a wide range of Ray-Ban frames to choose from. We offer both single vision and progressive lenses, and most frames can be fitted with both types of lens.
Authentic Ray-Ban prescription glasses at market-leading prices! No other eyewear brand has been imitated like Ray-Ban, and counterfeit Ray-Ban glasses are everywhere. Perhaps it's not surprising: Authentic Ray-Ban eyewear used to be available only to the affluent. Luckily, this is no longer true. Thanks to the internet and more efficient business models, Ray-Ban glasses are now more affordable than ever. Here at Extra Optical, our goal is to always offer the cheapest prescription glasses available. Check out our online store — you might be pleasantly surprised! Extra Optical customers are a happy crowd, and we want it to stay that way. If for any reason you're not 100% satisfied with your new Ray-Ban prescription glasses, you can return them within 30 days and we'll replace them or refund your money. Order your Ray-Ban prescription glasses from Extra Optical today!