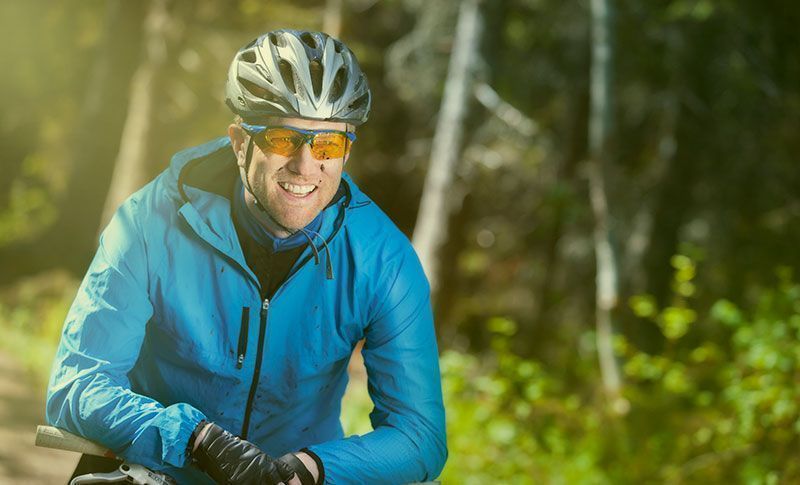 CYCLING GLASSES
Prescription cycling glasses for optimum safety and enjoyable rides! Freedom, speed and time for uninterrupted thinking: Cycling has plenty of benefits, beyond just stay-ing in shape. And if we're honest with ourselves, a big part of the fun is indulging in cool gear!
Cycling glasses should top the list of absolutely indispensable gear, and if your eyesight is less than perfect: prescription cycling glasses. Regular glasses don't provide the necessary UV protection, and like regular sunglasses they aren't designed to protect your eyes from rubble, branches or falls. A pair of good cycling glasses with appropriate vision correction will give you a totally different biking experience, no matter your level of ambition or performance. Cycling glasses fit snugly and securely, don't block your peripheral vision, don't slip or fog up, and overall provide much better safety and comfort than regular glasses and sunglasses.
Cycling glasses for every condition and need.
Keeping the sunlight out of your eyes is a must for safety on the road, and will help you enjoy your ride to the fullest. All our cycling glasses come with double lenses: an inner corrective lens, and a colored outer lens for protection against glare, dust, flies and most other nuisances except reckless drivers. On some models, the outer lens can be flipped up if, for instance, you ride into a dark tunnel or the sun goes down. We also offer cycling glasses with several interchangeable outer lenses, enabling you to always choose the perfect lens for the current light and weather conditions. The prices in our online shop include standard single vision lenses, but we can also fit your cycling glasses with progressive lenses or correction for astigmatism. Don't hesitate to contact our customer service for advice if you need progressive cycling glasses, as not all frames are equally suited for pro-gressive lenses.
The cheapest prescription cycling glasses you'll find!
Extra Optical offers the cheapest prescription cycling glasses you'll find. That doesn't mean we're compromising on quality: As an internet-only business, we have very low operating costs. When you buy prescription cycling glasses from Extra Optical, you pay for quality glasses — not for retail space and merchandizing. "I'm soooo super happy with my cycling glasses. Absolutely wonderful. Now I don't have to use two pairs of glasses. Recommended," says Jane, one of our delighted customers. We want you to be equally enthusiastic, so in the unlikely event that your cycling glasses don't meet your expectations, you can return them within 30 days and get a replacement or a refund. Select your frame from the online store, enter your prescription values and place the order, and your stylish cycling glasses will arrive by mail in a matter of days. Let's get rolling!