KIDS PRESCRIPTION SUNGLASSES
Quality prescription sunglasses for kids at very affordable prices. At ExtraOptical you'll find a wide selection of great sunglasses for kids and teens, with or without vision correction. The lenses and frames of our sunglasses are the same quality as those you buy from high-street opticians — they come from the same suppliers. All our prescription sunglasses are produced to order, and they are edged and assembled by our in-house optical dispensers.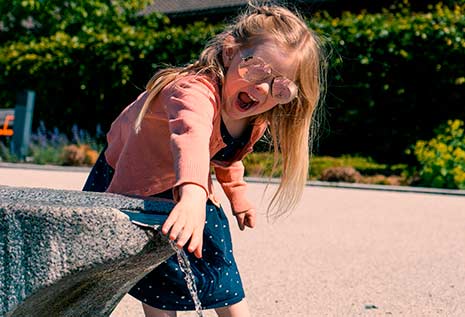 How, then, can we sell children's prescription sunglasses so much cheaper than other opticians? The answer is simple: As an internet-only business, our operating costs are very low. When you purchase glasses or sunglasses from ExtraOptical, you pay primarily for the quality of your glasses — not for rent, merchandizing and warehousing.
Buy KIDS prescription sunglasses online, it's easy and safe!
It's quick, safe and easy to shop children's sunglasses in our online store. Sit down with your child and enjoy selecting a frame which both of you fancy. When your child is excited about the look of his or her sunglasses, the likelihood of the glasses being used increases dramatically. If your child needs vision correction, enter all the required information from the prescription in the order form. Our customer service will happily assist if needed. You can also just send the prescription by email and leave the rest to us. It typically takes between one and two weeks to manufacture, assemble and quality control your child's sunglasses, which you will receive by mail. If for any reason the sunglasses don't meet your expectations, you can return them within 30 days and we'll replace them or refund your money. "I've used ExtraOptical for many years, both for my children and myself. Super pleased with the prices, the quality and the service," says Nancy, one of our happy customers. Order a pair of children's sunglasses from ExtraOptical today, you won't regret it!
Sunglasses for children and teens, with or without vision correction.Children's sunglasses are just as important as sunscreen for protecting the younger generation from permanent damage caused by solar radiation. Children typically spend more time outside in the sun than adults do, they often gaze upwards towards adults or objects around them, and their eyes are fragile and still in development. Fortunately, today it's both easy and affordable to buy quality sunglasses for kids and teens, whether they need vision correction or not. All our children's sunglasses are designed to fit snugly and comfortably on small heads, to stay on the nose without sliding, and to resist the inevitable hits, smacks and whacks of children's active play.